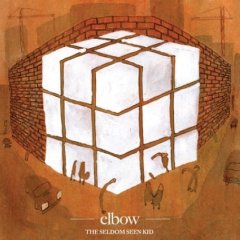 They're both, you know, highly enjoyable records. I, you know, immensely
enjoy
listening to them both. But the one on the left is exactly like an AC/DC record; a band whose career has been
making the same album fifteen times
, and who may bless their lucky stars that it happens to be a
good
album. And the one on the right is supple, varied, beautiful, often powerful and haunting, and best of all sounds like nothing else (not even too much like the previous Elbow albums).
So what was I thinking? I was thinking: 'they're both great; but let's be honest
The Seldom Seen Kid
is a much more grown-up record than
Black Ice
.'
And then I rebethought: wait a minute. Am I really using my critical vocabulary correctly? Do I really believe that 'grown-up' is synonymous with sophisticated, and 'infantile' with unsophisticated? ... Because, when ye get right down to it, that's the difference between the two: grown-up Elb-and-oh singing about divorces and being a lapsed Catholic from Bury; and superannuated adolescents AC/DC singing about 'rock and roll trains' (rock and roll is amongst other things a euphemism for sex, you know) 'blowing your mind' (they mean receiving oral sex, I think) and 'dancing all night' (bless! the very idea ... at
your
ages ... etc). But the more I think about it the more convinced I become that it's a mistake to equate sophistication with chronological age. People tend to become less, not more, sophisticated as they get older: more deeply embedded in their
habtius
, more world-weary, more monotonous. It is children who are the real sophisticates, capable of inflections and nuance and intensities of emotion most adults have long left behind. And so it proves with these two records; the one a brilliant, almost magnificent, account of the unsophistication of life as a grown-up, the other a sheerly wonderful homage to the sophistication of guitar riffs.
Also one especially striking lyric on the Elbow (from 'An Audience with the Pope': the line in question is '...and wait for the jaw-bell to ring'; made me think of the knockout punch) turns out to be a mishearing. It's just 'doorbell' sung in a Bury accent.